Mathilda the Doll Amigurumi PDF Crochet Free Pattern
Designer: Elif Ebrar
Instagram: @mommygurumi
Ravelry Store: Mommygurumi Elif

Hello everyone…
One of the free amigurumi crochet patterns we will share today is the amigurumi Mathilda the doll, whose photos and design belong to Elif Ebrar. You can learn how to crochet these doll using the free amigurumi pattern. Thanks to dear Elif Ebrar for this cute doll.
Amigurumi cats, amigurumi dolls, amigurumi dogs, amigurumi unicorns, amigurumi lambs, amigurumi dinosaurs, amigurumi foxes, amigurumi bears, amigurumi giraffes, amigurumi pigs, amigurumi birds, amigurumi penguins, amigurumi panda, amigurumi llama, amigurumi bunny, amigurumi clowns, amigurumi elephants, amigurumi hippos, amigurumi monkeys… All the amigurumi toys pattern recipes and ideas you are looking for are here…
Abbreviations
inc – inc
dec – dec
ch – air loop
dc – double crochet
sc – single crochet
hdc – half crochet
sl-st – connecting column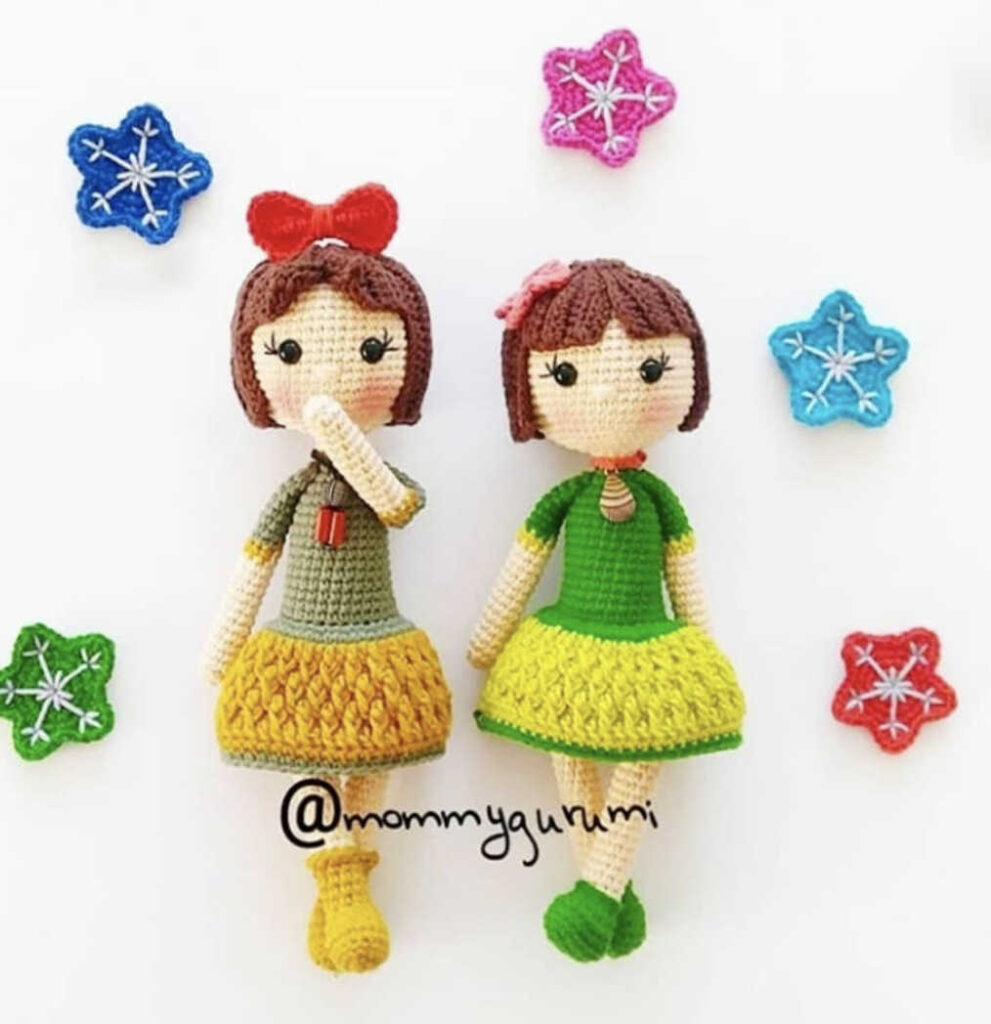 AMIGURUMI DOLL FREE PATTERN
Foot and Legs
(Start with shoe color)
R1: 7 chain
R 2: 1inc, 4sc, 3sc to the same loop, 5sc (14 sc)
R 3: 2inc, 4sc, 3inc, 5sc (19sc)
R 4: Blo 19sc
R 5: 19sc an extra loop, so the starting point comes back
R 6: 5sc 6dec 2sc (13sc)
R 7: 5sc 3dec 2sc (10sc) change color
R 8: Blo 10sc
R 9-27: 19 lines (10sc)
Knit one more of the same (if you want to make a boat, you can do 8 more and 4 more without blo and make 15 rows of skin color, and then you can make single crochet or HDC to the places where you make blo)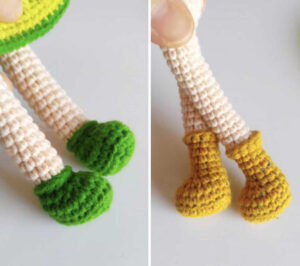 Body
Pull 5 chains from one leg to the other leg
R 28: 10sc from one leg to a 5sc chain 10sc from another leg to a 5sc chain Total (30sc) to the middle of the right leg.
R 29 -33: 5 rows (30sc)
R 34: 28sc color change on both sides
R 35:28 sc
R 36: Blo 28sc
R 37: One drop on each side (26 sc)
R 38-45: 8 rows (26 sc)
R 46: One decrease on each side (24sc)
R 47 (24sc)
R 48: (2sc 1dec) * 6 = (18 sc)
R 49: 18 sc
R 50: 9dec (9 sc)
Switch from color
R 51: 9sc
I suggest you put a wire around the baby's neck.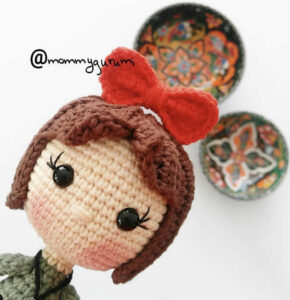 Head
R 52-53: 9 sc
R 54: 9inc (18 sc)
R 55: (1sc 1in) * 9 = 27 sc
R 56: (2sc 1inc) * 9 = 36 sc
R 57: (3sc1inc) * 9 = 45 sc
R 58: (8sc1inc) * 5 = 50 sc
R 59 -69: 11 rows of 50 scs (we put 9 mm eyes between 64 and 65th row with 8 stitches.)
R 70: (8sc 1dec) * 5 = 45sc
R 71 (4sc 1dec) * 9 = 36 sc
R 72 (4sc 1dec) * 6 = 30 sc
R 73: (3sc 1dec) * 6 = 24sc
R 74: (2sc 1dec) * 6 = 18sc
R 75: (1sc 1dec) * 6 = 12sc
R 76: 6dec (6sc) close the loop
Arms
R 1: Magic ring into 6sc
R 2: (1sc, 1inc) * 3 = 9sc
R 3-14: 12 rows 9sc
R 15: 9 HDC with intermediate color
R 16: 9sc with dress color
R 17-22: 6 rows 9sc
(Connect the two ends and fill the fibers with half of the close arms.)
Hair
• 21 chain check
(Important note we always weave blo)
Make 16 HDC, 4 sc on it
• 1 chain draw Skip to the top row this time sc on the sc HDCs HDCs, such as always do not forget to knit blo in this way 20 rows eg.
• 10 sl-st do now we will learn the part of the laughter 6 HDC 4 sc always turning, eg 5 rows in this way. then 11 chains pull 6 HDC 4 sc likewise 5 rows.
• Then the beginning of the hair with the beginning of the middle of the middle and perpendicular to the head looking at images. Since everyone's hand is always different, I recommend you to knit by measuring it on the head.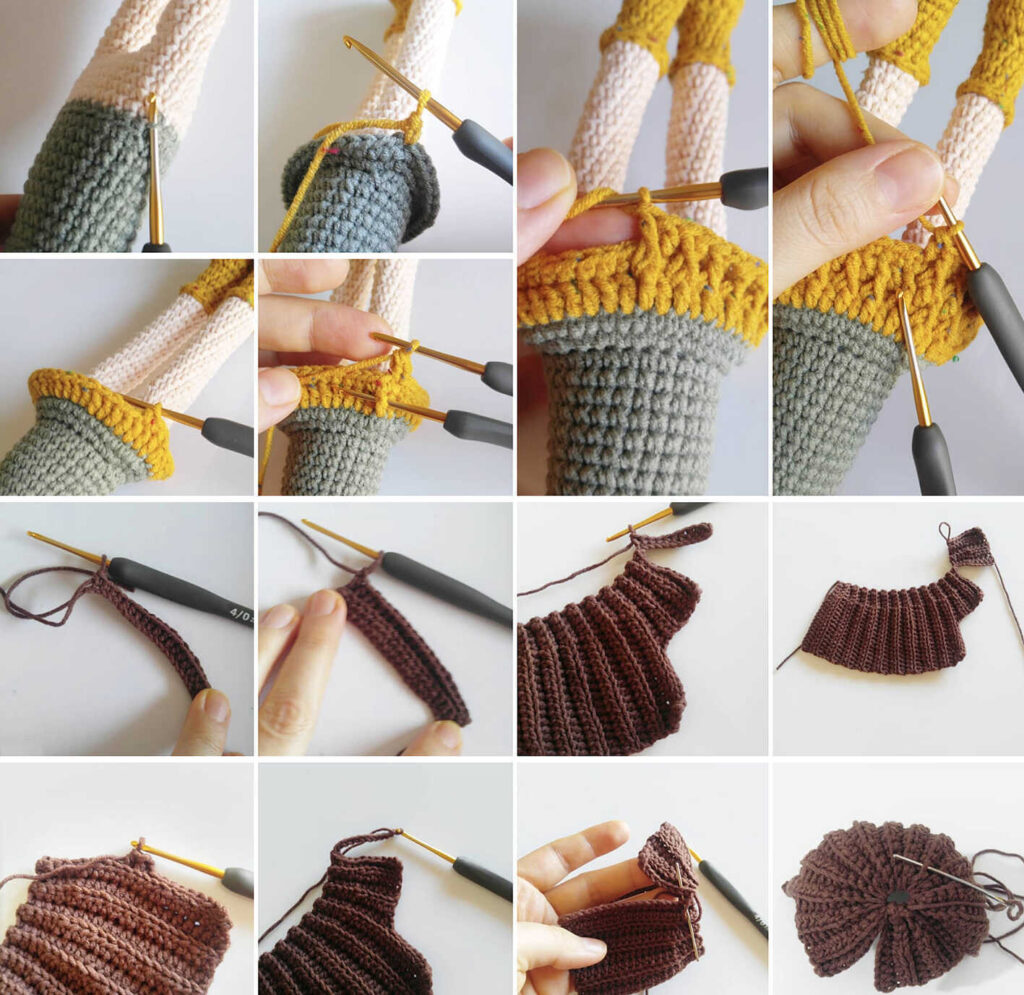 Skirt
The part where we knit in the trunk, (36th row)
We start with the color rope of the dress.
(Important note: we do not weave the spiral 1 st-sl is done when the chain is done by pulling 1 chain to the top row.)
R 1: 1 eg 1 increase = 42 sc
R 2: 2 eg 1 increase = 56 sc (for the skirt of a mustard-colored baby, without increasing in this order, single crochet eg)
R 3: Switch to skirt color 1 in DC
R 4: 1 single crochet per loop
R 5: 1 DC 1 We take the lower DC from behind
R 6: 1 row single crochet
R 7: The same order as in the 5th row (here we take DC which is important from behind, DC weave from DC to HDC weave from behind)
R 8: 1 row single crochet
R 9: Same as row 5
R 10: 1 row single crochet
R 11: Single row of body color crochet
Download PDF Pattern